Rudiger on Transfer News front page – Marina Granovskaia trying to stop Blues exit happening
Friday's edition of Marca has Chelsea defender Antonio Rudiger on the front page, as claims around a move to Real Madrid reach new heights.
Given his contract expires at the end of the current season, and he's so far been hesitant to sign a renewal with the Blues, there's been repeat claims around Rudiger's future.
Some European newspapers have made it clear multiple clubs have walked away from the German international, because the wages he's asking for are simply too high and considered unrealistic.
Marca say Real Madrid are 'preparing their final offensive' to sign the player. Los Blancos are said to be optimistic that Rudiger has decided to leave Chelsea, and it's believed a deal can be done similar to that which took David Alaba, who arrived as a free agent after his Bayern Munich contract expired.
Real Madrid feel Rudiger fits everything they're looking for, and therefore the Spanish club are the 'most determined' in the race for his signature.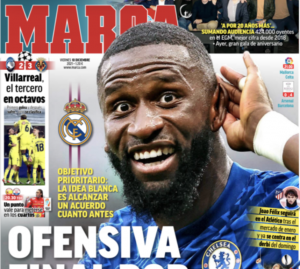 Thomas Tuchel is said to be keen Ruidger stays, with Sevilla's Jules Kounde named as an option if he doesn't.
Marina Granovskaia is in charge of the renewal attempts, and whilst it's made clear Rudiger hasn't ruled out a stay, Marca say there's optimism at Real Madrid.